Yesterday was eventful for us–it was Pepper's blessing day! Every year, during the Feast of St Francis of Assisi, patron saint of animals, hundreds of people gather together and bring their pets to have them blessed. And when I say 'pets,' it includes even hedgehogs, turtles and whatnot. This event is organized by Philippine Animal Welfare Society (PAWS) and Eastwood City Mall since 2004.
I have a side story though, I was so excited for Pepper's blessing that I came in a day early! I went there last Saturday, overly excited, to find out that it was not until the next day! Moving on…
We got there around 5pm. There were registration booths by the parking entrance so you won't have to fall in line at the one in the open park. Pepper was a little too shy to see so many animals around him. At first, he was scared and too tensed to see so many dogs. He was so stressed and was hugging me tight. I had to calm him down and hug him back to reassure that it's going to be okay.
The entire place was packed! I think there were hundreds or thousands of pets and their owners in the event. The dogs are mingling with each other. It was so adorable to see them. Sadly, my Pepper's a bit too anti-social.
We got Pepper his "I am blessed" bandana for only Php50.00. The girls from PAWS were so aliw with Pepper since there weren't much cats in the event. Plus, I guess Pepper is the only dressed up kitty there. Pepper was even invited to attend the pet Halloween party for this October.
At around 6:50pm, Pepper and I got in line for the blessing. It was a little crowded but, I must say, kudos to PAWS for keeping the event organized.
Another side story again. While we were about to enter the blessing area, some of the people were a little too pushy for comfort. Pepper, who has always been possessive assertive with his space, started hissing and striking out to other pets with his front paws. Talk about scary.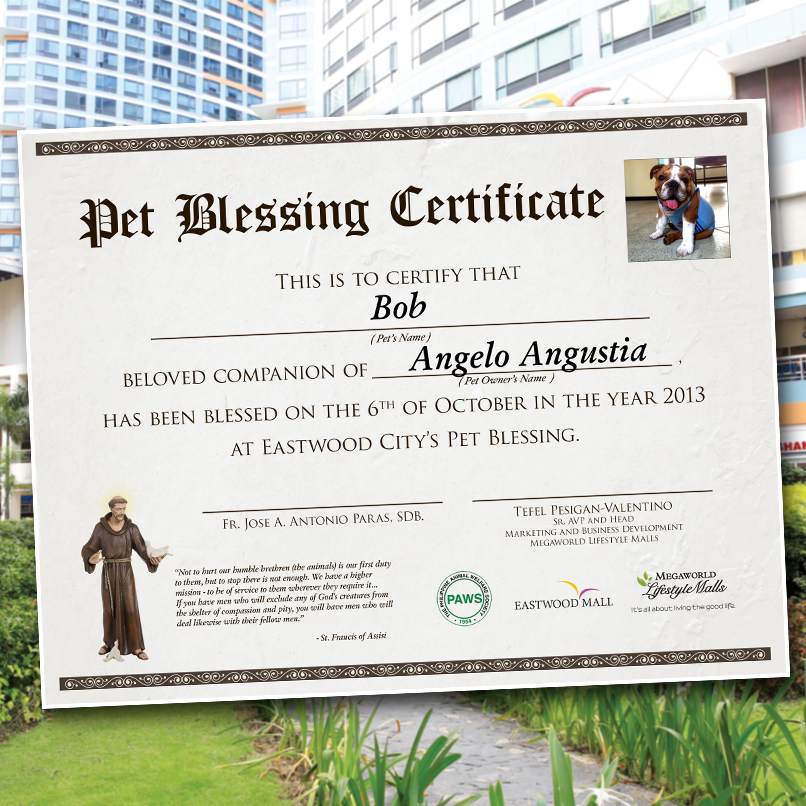 Anyway, another special thing this year is that PAWS will be issuing Blessing Certificates to those who attended the event. Pet owners can claim the certificate by the mall concierge starting October 20 by presenting the certificate claim stub given during the registration or the pet owner's ID.
Mark your calendars for the next pet event this month:
Happy Monday!